6th Grade Language Arts Teacher
Courses Taught:
6th Grade Language Arts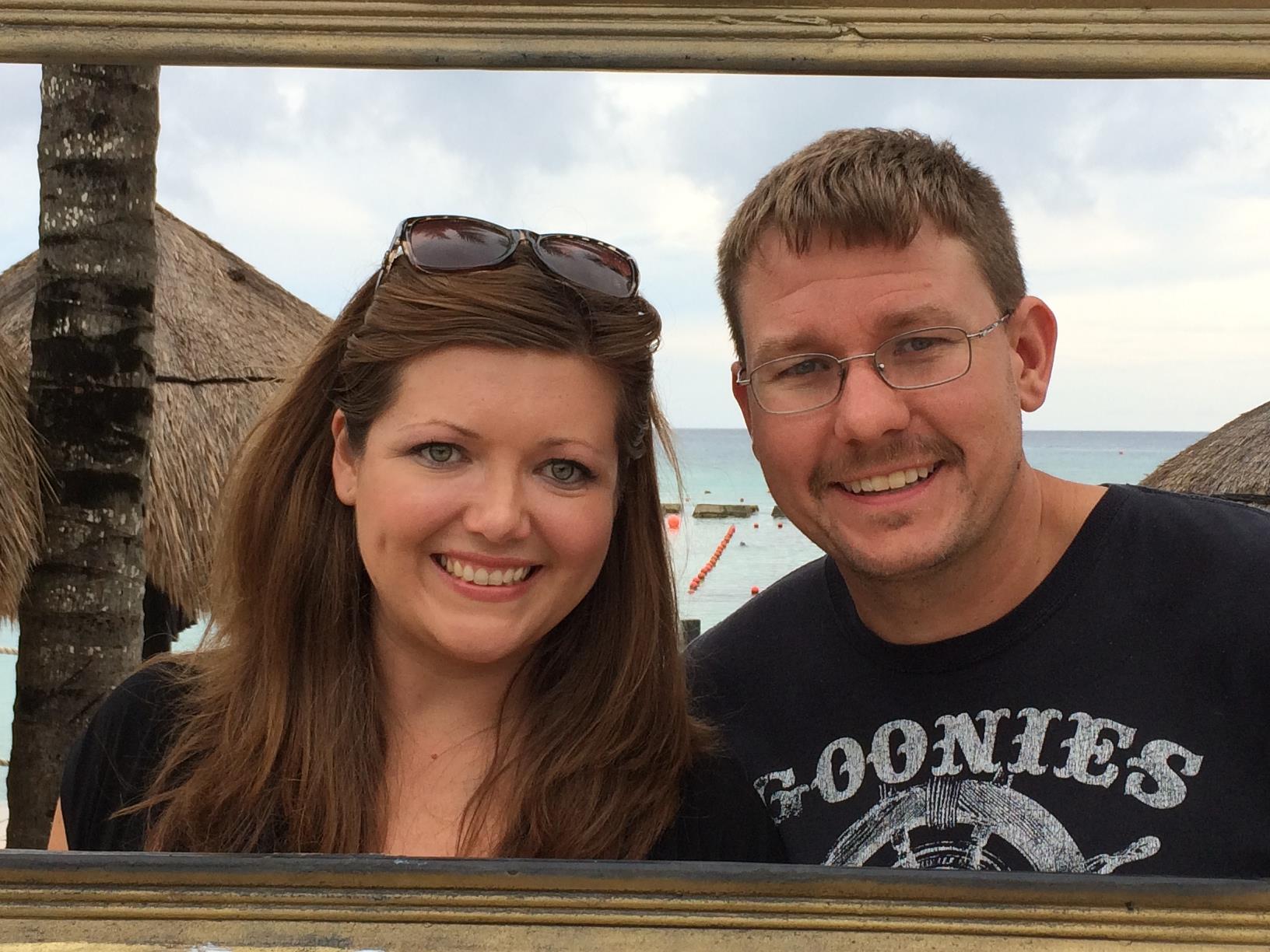 Picture of Victoria Henry and Husband
Hello! My name is Victoria Henry and I am so excited to begin my second year at Newport Grammar School! The 2021-2022 school year will be my 12th year of teaching and my second in sixth grade. I have previously taught preschool, third, and fourth grades. I received my Bachelor's Degree in Education in 2009 followed by a Master's Degree in Reading and Literacy and an Education Specialist Degree in Educational Leadership.
6th Grade ELA
Personal Items
Pencil pouch

Individual tape dispenser

Pair of scissors
Individual set of headphones to use on Chromebooks
THE FOLLOWING ITEMS WILL GO TO CLASSROOM COMMUNITY USE AND DISTRIBUTED TO STUDENTS, AS NEEDED, DURING CLASSROOM ACTIVITIES:
1 pack of pencil tip erasers

1 bottle of Germ-X

3 boxes of Kleenex
1 pack of Lysol wipes
Pack of 3x5 index cards
#2 Pencils
**** Wish List Items ****
Astrobright neon-colored copy paper

white cardstock

band aids
Lysol spray

bright-colored sticky notes
Box of Ziploc bags:
Boys (Quart size)

Girls (Gallon size)
Tuesday, September 28- No School
Thursday, September 30- Science Benchmark
Friday, October 1- 1:00 Dismissal
1. Brylee Blanchard
2. Wyet Bolin
3. Elias Gaona
4. Ellie Henderson
5. Maxx Jenkins
6. Alyssa Lane
7. Carter Lovin
8. Alexis Parton
9. Harsh Patel
10. Manan Patel
11. Jacob Phillips
12. Ava Woods
13. Ethan Dunn
14. Isaak White
15. Margaret Dorsey
16. William Smith
17. Sophia Allen
Week of 10/18
Figurative Language, Mood and Tone
Week of 10/11
Figurative Language
Week of 9/27/21
Grammar Review
Week of 9/20/21
Objective Summary
Week of 9/13/21
Point of View
Week of 9/6/21
Theme
Point of View
Week of 8/30/21
R.A.C.E.S. Writing Strategy
Theme
Week of 8/23/21
Plot and Conflict
Week of 8/16/21-
AIMS Web Benchmark
Story Elements
New Vocabulary Words for each week will be added to the top of the list. Our Spiral Vocabulary Quiz each Friday will contain new and old words.
Mood
Tone
Poetry
figurative language
Non-Literal
Idiom
Alliteration
Personification
Hyperbole
Metaphor
Simile
Adage
Onomatopoeia
Sentence
Definition
Grammar
Comma
Pronoun
Italics
Paragraph
Perspective
Summarize
Prefix
Bias
Tone
Quote
Plagiarism
Fluent
Determine Importance
Point of View
Inference
Narrator
Punctuation
Dialogue
Explicit
Character Traits
Details
Valid
Paraphrase
Cite
Transition Words
Elaborate
Evidence
Event
Sequence of Events
Resolution
Theme
Exposition
Climax
Rising Action
Falling Action
Text
Character
Setting
Plot
Conflict
Capitalization
The two option are: CommonLit and Traditional Book List
CHOOSE EITHER OPTION
Option 1 (Traditional Book List)
Attached is a list of recommended summer readings for incoming sixth grade students.
WHAT DO I NEED TO DO?
Choose two books from the attached list.

Complete one project for each book.

Turn projects in on the first day of school (registration day).
WHAT PROJECTS DO I DO?
Choose from the following projects. Remember, you must do a DIFFERENT project for each of the two books that you choose to read.
Poem: Write a poem summarizing the story. Your poem does not have to rhyme, but it does have to be 1 ½ to 2 pages in length and include information on the characters, plot, and setting.

Sequel: Write a sequel to the story. Your story needs to include aspects of the book you read (story, plot, characters, setting, etc.) and be at least 2-3 pages in length.

Scrapbook: Create a scrapbook about your book. Your scrapbook must include pictures and descriptions of the characters, plot, setting, and a reflection. The scrapbook should be at least 4 pages in length. Each page should contain at least 3 pictures (can be hand drawn) and a description of each.

Story Cube: Use a box (or create your own) to tell about the story. You should dedicate one side of the cube to each of the following elements: (1) Title and author, (2) setting, (3) characters, (4) problem, (5) solution and (6) your reflection (Did you like the book? Would you recommend it to someone else? Why or why not)? Your cube should also include at least one picture per side.

Book in a Bag: You must include at least 10 items that represent your book. You must include 3 items to represent the characters, 3 items to represent the plot, and 2 items to represent the setting. The remaining 2 items can represent any aspect of the book you choose. You must include a written description of each item, what it represents and how it relates to the story/book.

PowerPoint/Google Slides: Create a PowerPoint/Google Slides presentation to go along with your book. Your presentation should include at least 5 slides and each slide should include at least 2 pictures. You need to include the following information in your presentation:
Title, author, and your name

Characters (include descriptions about the most important characters)

Setting

Plot (You may have to include more than one slide to tell about the plot. Be sure to tell all the important events that happened in the story).

Reflection (Did you like the book? Would you recommend it to someone else? Why or why not)?
Option 2 (Online Assignments through CommonLit.com)
WHAT DO I NEED TO DO?
Complete a total of 6 assignments, two from each genre.
The CommonLit assignments are divided into 3 genres:
Fiction--Nonfiction--Poetry
There are several texts per genre to choose from.
You must complete 2 assignments from each genre.
You should complete the Assessment Questions and Discussion Questions for each text you choose.
You must earn a minimum average of 75 for your work.
You can join the class and work at your own pace. If you do not already have a CommonLit account, you will first create an account at this link. Then enter the class code to join the Summer Reading Class.
COMMONLIT CLASS CODE FOR SUMMER READING: V6VPR5
WHAT DO I EARN FOR COMPLETING THE SUMMER READING PROGRAM?
Special field trip

DoJo points!

A free homework pass

A free 100 on an assignment
If you have any questions, email me at victoria.henry@newportgrammar.org
Chasing Lincoln's Killer by James L. Swanson
Recounts the twelve-day pursuit and capture of John Wilkes Booth, covering the chase through Washington D.C., Maryland, and Virginia, with a discussion of Abraham Lincoln as a father, husband, and friend that examines the impact of his death on those close to him.
Pharaoh's Boat by David Weitzman (Illustrator)
Provides an illustrated account of the construction of Egyptian pharaoh Cheops' funeral boat, and discusses its discovery centuries later during an archaeological dig.
Small Steps by Peg Kehret; Abby Levine (Editor)

The author describes her battle against polio when she was thirteen and her efforts to overcome its debilitating effects.
Football Genius by Tim Green

Troy, a sixth-grader with an unusual gift for predicting football plays before they occur, attempts to use his ability to help his favorite team, the Atlanta Falcons, but he must first prove himself to the coach and players.
Chomp by Carl Hiaasen

The difficult star of the reality television show, "Expedition Survival," disappears on location in the Florida Everglades, where they were filming animals from the wildlife refuge run by Wahoo Crane's family, and Wahoo and classmate Tuna Gordon set out to find him, but they must avoid Tuna's gun-happy father.
Maniac Magee by Jerry Spinelli
When Jeffrey Lionel Magee wanders into Two Mills, Pennsylvania, a legend is in the making. Before too long, stories begin to circulate about how fast and how far he can run and about feats so incredible they earn him the nickname "Maniac."
Number the Stars by Lois LowryTen-year-old Annemarie Johansen and her best friend Ellen Rosen often think about life before the war. But it's now 1943, and their life in Copenhagen is filled with school, food shortages, and the Nazi soldiers marching in their town. When the Nazis begin "relocating" the Jews of Denmark, Ellen moves in with the Johansens and pretends to be part of the family. And as Annemarie helps shelter her Jewish friend from the Nazis and embarks on a dangerous mission, she learns how to be brave and courageous -- to save her best friend's life.
The Phantom Tollbooth by Norton Juster, Jules Feiffer (illus.)This ingenious fantasy centers around Milo, a bored ten-year old who comes home to find a large toy tollbooth sitting in his room. Joining forces with a watchdog named Tock, Milo drives through the tollbooth's gates and begins a memorable journey.
Summer of My German Soldier by Bette Greene
The summer that Patty Bergen turns 12 is a summer that will haunt her forever. When her small hometown in Arkansas becomes the site of a camp housing German prisoners during World War II, Patty learns what it means to open her heart. Even though she's Jewish, she begins to see a prison escapee, Anton, not as a Nazi, but as a lonely, frightened young man with feelings not unlike her own.
Small Spaces by Katherine Arden
After suffering a tragic loss, eleven-year-old Ollie who only finds solace in books discovers a chilling ghost story about a girl named Beth, the two brothers who loved her, and a peculiar deal made with "the smiling man"–a sinister specter who grants your most tightly held wish, but only for the ultimate price.
The Strange Case of Origami Yoda
by Tom Angleberger
Dwight is the weird kid in class. Dwight folds an Origami Yoda and, with Dwight as its mouthpiece, Yoda gives all sorts of good advice to the kids in his class. This is the first in a four-book series, and the short chapter books are very reader-friendly and are designed to read like a school notebook, complete with doodles and margin notes
Moxie and the Art of Rule Breaking by Erin Dionne
For fans of mystery and humor, this is a perfect pick. Thirteen-year-old Moxie is a total rule follower until she finds herself involved in Boston's biggest unsolved mystery, the Isabella Stewart Gardener Museum art heist. Based on a real crime, this fictional story takes readers on a great ride. As Emily, 11, says, "You've got to read it to find out what happens.
Eleven, by Tom Rogers, tells the story of a boy named Alex, who turns 11 years old on 9/11. His point of view is unlike others in popular media, allowing the reader to see the tragedy through a new lens. The novel focuses on two families, but unfortunately, only one has a happy ending
A Wrinkle in Time is the story of Meg Murry, a high-school-aged girl who is transported on an adventure through time and space with her younger brother Charles Wallace and her friend Calvin O'Keefe to rescue her father, a gifted scientist, from the evil forces that hold him prisoner on another planet.